The Best Free Music Production Software programs to download online. These free DAWs work on Windows, Mac, Linux, Ubuntu, and Mobile.
These digital audio workstations will allow you to make professional music without spending any money.
Related: 25 Free Online Sequencers
Best Free Music Production Software
Instructions: Click each link below and look around each website for the download link or button. Do not install any suspicious software.
1. Audacity – Audio Editing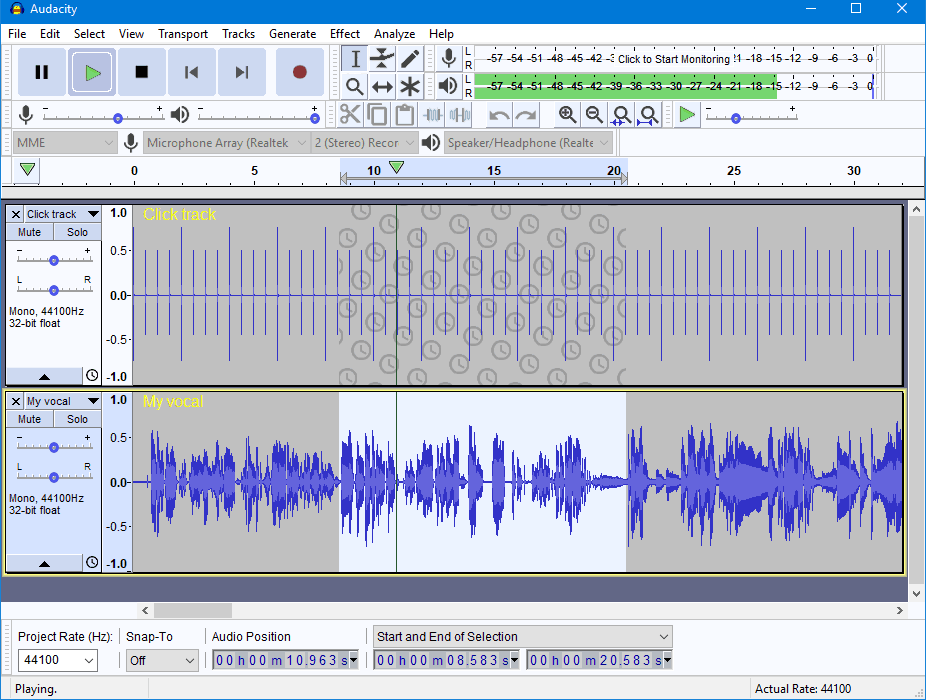 Audacity is a free, open-source software for recording and editing sounds.
Record live audio.
Record computer playback on any Windows Vista or later machine.
Convert tapes and records into digital recordings or CDs.
Edit WAV, AIFF, FLAC, MP2, MP3 or Ogg Vorbis sound files.
Cut, copy, splice, or mix sounds together.
Change the speed or pitch of a recording
Platform: Windows, Mac, GNU/Linux
Audacity Website – How to Use Audacity ( Tutorials )
---
2. Apple Garageband
GarageBand is the easiest way to create a great-sounding song on your Mac.
Add realistic, impeccably produced, and performed drum grooves to your song with Drummer.
Garageband Features:
Add a virtual session drummer to your song that takes direction and plays realistic beats
Create a song with up to 255 tracks
Quickly change the timing of an audio recording using Flex Time
Use your iPad and Multi-Touch gestures to wirelessly play any GarageBand instrument on your Mac
Choose your best performance with multi-take recording
Platform: Free with Mac OS
Garageband Website – How to Use GarageBand ( Tutorials )
---
3. LMMS – Free Music Production Software
LMMS is a free cross-platform digital audio workstation software that allows you to produce music with your computer.
This covers creating melodies and beats, synthesizing and mixing sounds, and arranging samples. You can have fun with your MIDI keyboard and much more.
LMMS Features:
Song-Editor for composing songs
A Beat+Bassline-Editor for creating beats and baselines
An easy-to-use Piano-Roll for editing patterns and melodies
An FX mixer with 64 FX channels and an arbitrary number of effects allow unlimited mixing possibilities
Many powerful instrument and effect plugins out of the box
Full user-defined track-based automation and computer-controlled automation sources
Compatible with many standards such as SoundFont2, VST(i), LADSPA, and GUS Patches
Import of MIDI files, Hydrogen project files, and FL Studio ® project files
Works on Windows, Mac, Linux
LMMS Website – LMMS Video Preview
---
---
4. Ardour
Ardour is a fully-featured digital audio workstation, similar to other software like ProTools, Nuendo, Sonar, and Logic, and capable of replacing analog or digital tape systems.
Ardour Features:
Audio and MIDI Multi-Track Recording and Editing
Plugins with Full Sample Accurate Automation
Transport Sync and External Control Surfaces
Powerful Anywhere-to-Anywhere Signal Routing
Video Timeline
Platform: Linux, Windows, Mac
Ardour Website – Ardour Video Preview
---
5. Ableton Live Lite
Ableton Live Lite is a free DAW software that lets you record, produce and perform with MIDI-based music and audio. It features tools like an intuitive sequencer, powerful instruments, professional effects, and elegant automation.
It has all the main features of Ableton's flagship Live 9 software, but it comes in a lighter version for people who want to get acquainted with the product before purchasing it.
Instrument & Drum Racks
Unlimited undo and nondestructive audio editing
192 kHz/32-bit multitrack recording
A powerful MIDI sequencing solution for software and hardware
Real-time time-stretching and advanced warping
Support for VST2, VST3, and Audio Unit
Time signatures change
Audio input channels: 8 mono channels
The audio output channel count is 8
Automated lanes on multiple channels
Track Freeze
MIDI Effect Racks
Capture MIDI
MIDI Clock/sync
Supports: WAV, MP3, AIFF, Ogg Vorbis, FLAC
---
6. Akai MPC Beats
MPC Beats is a free beat-making software by Akai, the makers of the Akai MPC.
MPC Beats Features:
16 Pads For Loops & Samples
Piano Roll to Record MIDI Notes
Sample Editor
Sound Browser
Premade Templates for Trap, Pop, & Dance
80+ Audio Effect plugins
2GB of Content: Samples, Loops, Virtual Instruments
Record Vocals & Instruments
Tons of Free Video Tutorials
MPC Beats – Getting Started – MPC Beats Academy
---
7. Waveform Free
Waveform Free is a free digital audio workstation that you can use to make beats, record instruments, and podcasting.
The free version has feature limitations. There is a paid upgrade with more options.
Waveform Free Features:
Cross-Platform: Windows, Mac, & Ubuntu
Unlimited track count
MIDI Pattern Generators
Constant Save Technology
Micro Drum Sampler
Automation
No Watermarks
MIDI Typing Keyboard
VST Plugin & AU Plugin Support
Waveform Free – Software Overview – Video Tutorial
---
8. SoundBridge
SoundBridge is a free Digital Audio Workstation that works on Mac or PC in 32 or 64-bit formats.
SoundBridge Features:
Audio & MIDI multi-track sequencer
Audio Editor
Advance Mixer
MIDI Mapping & Editor
File Browser
Automation Editor
Plugin Presets
RitMix: Drum Machine
OS: Mac & Windows
SoundBridge – Getting Started Tutorial
---
9. Cakewalk by Bandlab
Cakewalk by BandLab is a free music creation studio program for Windows only.
Cakewalk Features:
Unlimited MIDI Tracks
Step Sequencer / Drum Sequencer
Record Vocals & Instruments
VST Plugin Support
Touch-Enabled
64-bit Mix Engine
Manipulate Time & Pitch
---
10. Pro Tools | First
Pro Tools First is a free limited version of the Pro Tools music software.
Pro Tools First is intuitive enough for beginners and sophisticated enough for more experienced musicians.
A musician can record, use software instruments, and apply sound effects to his or her songs to make them sound professional.
In addition, Avid Pro Tools First takes advantage of mobile lifestyles, allowing users to manage sessions in the cloud, making it easier for them to work anywhere.
Free Account Required
16 Audio Tracks 
Nondestructive Audio & MIDI Editing
16 MIDI Tracks
16 Instrumental Tracks
24 Stereo Busses23 Included Plugins
QuickPunch
3.1 GB of Included Sounds
Sample Rate: 96 kHz, 32 bit
Automation: Volume, pan, sends, solo, mute, plugin parameters
Light & Dark themes
ReWire & Ableton Link Support
Online Cloud Collaboration
Limited to 3 Cloud Projects
---
11. BandLab Online
BandLab is a cloud-based music program that allows musicians and fans to interact online. Music projects can be recorded, edited, and mixed online using the online mix editor.
BandLab provides a wide variety of virtual instruments for recording and editing MIDI notes. You can record vocals and real instruments online to create high-quality tracks.
You will need to sign up for a free account.
Record instruments, vocals, and play digital instruments
Online Lyrics Writing
Vocal samples can be edited
You can apply audio effects
Export individual audio files
Audio files can be exported as WAV or MP3
Online collaborations with musicians
Record over Instrumentals
Provides an instant preview that you can share
Audio time-stretching in real-time
---
12. Soundtrap
Soundtrap is a powerful and easy-to-use online music production studio that allows musicians from all over the world to collaborate on music projects.
The Soundtrap software enables musicians to produce their own music. It integrates the process of recording, composing, and mixing all in one place.
This music app gives producers the freedom to define how they want to create their songs and how they want them to sound.
With Soundtrap you can easily turn your ideas into reality. It has pre-set instruments and tracks for any genre you are working in and it also provides tools for synth, loop, recording vocals or instruments, or layering them for greater depth.
Auto-Tune – This allows you to pitch and modify your voice recordings.
Collaborate With Music Creators
Automation – Use the sweeping effect, adjust the volume, and pan as you wish.
Create Patterns – Design your beats intuitively and easily.
Use Presets & Loops – Offers over 4,000 audio presets and loops.
Record Audio – Connect a microphone, guitar, or other musical instruments
---
13. Magix Music Maker Free
Magix Music Maker Free Edition is a digital audio workstation that lets you create music with synthesizers and drum machines, record your own vocals and instruments, edit audio files and arrange loops.
The Magix Music Maker Free Edition is an easy-to-use music-making tool with powerful built-in sounds and virtual instruments that can be combined with your own samples to produce high-quality tracks.
It has a streamlined user interface that's quite simple to use for beginners, but it also has enough depth to offer experienced music producers a lot of versatility.
Music Maker Free Features:
Built-in Drum Machine
Song Maker AI
In-App tutorials
---
14. Serato Studio
Serato Studio is a free beat-making software for beginners, DJs, and advanced music producers. The free version of Serato Studio has feature limitations.
Serato Studio Features:
Drum Pattern Maker
BPM-sync
Free Sample Packs
Demo Projects
Limited to 1 Audio Track
Export Format: MP3 ( Free Limitation )
Pitch 'n Time
Serato Studio – Tutorials – Beat Video
---
15. Soundation Studio
Soundation Studio is a cloud-based tool for producing and collaborating on music online.
It provides users with the ability to record audio, mix and master it, as well as to collaborate remotely on projects.
Virtual Instruments: VA synth, GM-2, Supersaw, SPC, FM Synth, Wub Machine
Various Audio effects: Tremolo, Distortion, Reverb, Phaser, Delay
Collaborate With Music Producers
Export Audio as MP3
Recommended: Google Chrome
---
16. Mixxx – DJ Software
Mixxx has everything you need to start making DJ mixes in a tight, integrated package. Whether you're DJing your next house party, spinning at a club, or broadcasting as a radio DJ, Mixxx has what you need to do it right.
Mixxx Features:
iTunes Integration
DJ Controller Support
Powerful Mixing Engine
BPM Detection and Sync
Platform: Mac, Windows
---
17. DarkWave Studio – Free Music Creation Software
DarkWave Studio is a real-time sound editor with a tabbed interface that lets you compose your own music with the assistance of your computer.
DarkWave Studio Features:
VST Plug-in Support – Limitlessly Expandable With Instrument and Effects Plugins.
Multi-Core / Multi CPU Support.
Full 64-bit Double Precision Floating Point Audio Processing.
Low Latency ASIO And DirectSound Audio Output Support.
Platform Support: Windows 8, Windows 7, Windows Vista, Windows XP
DarkWave Studio Website – Darkwave Studio Walk-through
---
18. MuLab Free
MuLab features an enhanced look and feel, with a rich collection of new and improved features throughout the app that all together seriously increase the creativity, comfort, and productivity of MuLab.
MuLab Features:
Create, record, edit and play multi-track audio & music.
Flexible tracks and sub-tracks support audio and automation parts.
Easy modular architecture.
Top-quality uncompromised sound engine.
Super-fat oscillators with 300 selected waveforms + support for user waveforms.
Multi-core CPU support.
Automatic mono/stereo handling.
Advanced integration between composer and sound engine.
Automation parts let you easily automate any parameter in the modular tree structure, even the deepest nested ones.
Platform: Mac, Windows
Free Limited Version
---
19. Cubase LE
Cubase LE is a DAW software that was originally developed by Steinberg for Mac and Windows. It is free to download and can be used on both personal and commercial projects.
Cubase LE offers facilities that enable the user to record, edit, synchronize, mix, process, and master audio files.
There are also application extensions available for live performance.
Cubase LE Features:
Drum Pattern Editor
Time Stretch
Audio Mixing Console
Audio Warp Quantize
Chord Pads
Sampler Editor
Scale Assistant Feature
Score Editor
Audio Pre-Record
Punch In/Punch Out
---
20. Studio One 5 Prime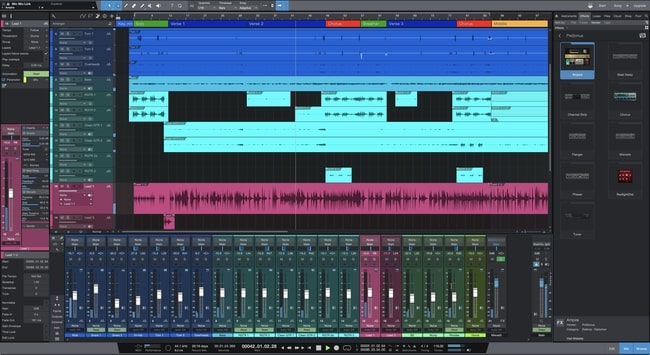 Studio One Prime provides everything you need to get started in content creation and audio production for the low, low cost of $0.
Create your own music and podcasts as intuitively as possible with a single-window, drag-and-drop workflow that will make you wonder why you put up with other software that isn't designed the same way.
Studio One Prime Features:
Record, produce, and mix easily, all from a single, intuitive application
An intuitive single-window work environment with quick and easy drag-and-drop functionality and multi-touch support
Unlimited audio and instrument tracks, virtual instruments, and FX channels
Powerful Presence XT virtual sample-player for keyboard and synth sounds
Patterns allow for intuitive drum and melody composition via familiar drum machine/step-sequencer style UI
Completely redesigned Native Effects plug-in suite.
---
21. Qtractor – Free Music Production Software
Qtractor is an Audio and MIDI multi-track free music production software.
Qtractor Features:
Multi-track audio sequencing and recording.
Traditional multi-track tape recorder control paradigm.
Audio file formats support OGG (via libvorbis), MP3 (via libmad, playback only), WAV, FLAC, AIFF and many, many more (via libsndfile).
Standard MIDI files support (format 0 and 1).
Non-destructive, non-linear editing.
An unlimited number of tracks per session/project.
An unlimited number of overlapping clips per track.
Platform: Linux
Qtractor Website – Qtractor Demo Video
---
22. Hydrogen – Drum Machine
Hydrogen is an advanced drum machine for GNU/Linux.
Its main goal is to bring professional yet simple and intuitive pattern-based drum programming.
Hydrogen Features:
Sample-based stereo audio engine, with the import of sound samples in Wav, .au and .aiff formats.
Pattern-based sequencer, with an unlimited number of patterns and the ability to chain patterns into a song.
Up to 192 ticks per pattern with individual level per event and variable pattern length.
Unlimited instrument tracks with volume, mute, solo, pan capabilities.
Multi-layer support for instruments (up to 16 samples for each instrument).
Sample Editor, with basic cut and loop functions.
Platform: Linux
Hydrogen – Drum Sequencer Preview
Related: Free Online Drum Machines
---
23. MusE – Free Music Software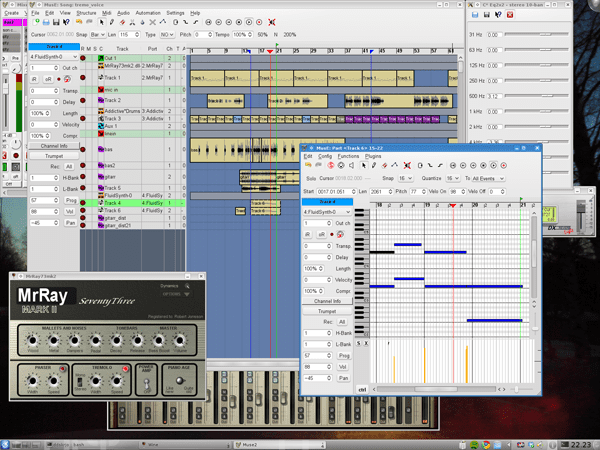 MusE is a MIDI/Audio sequencer with recording and editing. MusE aims to be a complete multitrack virtual studio for Linux.
MusE Features:
Realtime Record/Playback several mono/stereo inputs/outputs.
Graphical editing of automation
Several types of audio tracks: Audio inputs, Audio outputs, Wave tracks, Group tracks, Aux outputs
Standardized plugin formats: LADSPA, DSSI, VST
Drag and drop import and arranging of: Plugins and plugin presets, Parts, Midi files, Audio files, Aux outputs
Platform: Linux
---
24. Linux Sampler
The LinuxSampler is an open-source audio sampler with high stability, efficiency, and very low latency, providing professional-grade features, comparable to both hardware and commercial Windows/Mac Software samplers.
Platform: Windows / Mac
---
25. orDrumbox – Drum Machine
The orDrumbox is a free drum machine software.
orDrumbox Features:
Pattern-oriented – You can create songs by assembling various patterns. It's up to you to determine the number of beats in each pattern (16 or 32 or whatever).
Automatic composer and arpeggiator
Automatic sound assignations
Drum Kits – You can import, create, modify and save drum kits. It's a "sound library" in one single file.
Soft Synth – A soft synth with available and can generate sounds using an analog synth emulation: two VCO generator, FM modulation, envelope ADSR controller, low pass / hi-pass filters.
Platform: Windows, Mac, Linux
orDrumbox Website – orDrumbox Video Preview
---
26. Rosegarden
Rosegarden is a music composition and editing environment based on a MIDI sequencer that features a rich understanding of music notation and includes basic support for digital audio.
Rosegarden Features:
Editing – Intuitive ways to record and edit notes.
Managing your MIDI ports, banks, programs, and controllers without having to remember any numbers.
Notation – Entering, editing, and printing score.
Audio – Recording, Mixing, and using samples and effects.
Synths – Playing your MIDI tracks through hosted synths, for more accurate control.
---
27. Ohm Studio
The Ohm Studio is a free and open-source digital audio workstation (DAW) with cross-platform support.
The software is a collaborative project that has been created by an international team of developers as an alternative to the DAWs which are usually costly in price.
Ohm Studio Features:
Record & Edit Audio
VST Plugin Support
Connect Racks With Virtual Cables
Audio Mixer
Import & Export Projects
---
28. Podium Free
The Podium Free software was created to provide an easy-to-use and complete digital audio workstation to both beginners and professionals. It has the features of a paid DAW software, but it is completely free.
Podium Free offers many features that make the software stand out from others like FL Studio and Ableton Live.
There are only a few limitations to the application's features. Installation and download does not require registration.
VST Plugin Support
Unlimited Tracks & Arrangements
Customizable Interface
Record Audio & MIDI
Beat Slicing
Bounce Audio Tracks
---
29. Spek – Acoustic Spectrum Analyser
Spek helps to analyze your audio files by showing their spectrogram.
Spek Features:
Supports all popular lossy and lossless audio file formats thanks to the FFmpeg libraries.
Ultra-fast signal processing uses multiple threads to further speed up the analysis.
Shows the codec name and the audio signal parameters.
Allows saving the spectrogram as an image file.
Drag-and-drop support; associates with common audio file formats.
Auto-fitting time, frequency, and spectral density rulers.
Adjustable spectral density range.
Translated into 19 languages.
Platform: Unix, Windows, and Mac OS X.
---
30. Temper – MIDI & Audio Sequencer
Temper is a MIDI and Audio sequencer with an emphasis on MIDI.
Easily integrate Temper with your other software via basic drag-and-drop behavior, more advanced sync functionality, or seamlessly as a VST.
Temper Features:
Sophisticated event routing and manipulation
Powerful MIDI editing environment
Interactive algorithmic composition tools
Perform time
Multiple takes per track
Simultaneous multitrack editing
Tool chaining
Unified MIDI controllers+VST automation
Multicore audio engine
---
31. GarageBand Mobile
GarageBand for iOS makes it incredibly simple to play, record, and share your music, no matter where you are.
Tap into a wide range of instruments from around the world.
And now with the Sound Library, you can choose and download more free instruments and loop packs when new sounds are released, to help you easily craft songs in your favorite styles — all right from your iPhone, iPad, or iPod touch.
Price: Free
Device: iPhone & iPad
Record, arrange and mix your song with up to 32 tracks
Use Multi-Touch to tap and trigger a Live Loop cell or group of cells
Tap record and capture your performance
Play your iPad, and iPhone, like a musical instrument
Strum chords or trigger autoplay patterns on an acoustic and electric Smart Guitar
Recording, mixing, and exporting a song can be done at a 24-bit audio resolution
---
32. Figure
Create beats in seconds and collaborate with others using Figure, the universally acclaimed music-making app for instant inspiration.
Price: Free
Device: iPhone
---
33. Ninja Jamm
Produce your own music with Ninja Jamm's intuitive kinetic interface, effects, and HQ Sample packs.
Remix more than 40 electronic artists including Bonobo, Amon Tobin, and ODESZA using each element of their Tunepacks like drums, bass, vocals, and melodies.
Price: Free
Device: iPhone & Android
---
34. Beatwave
Beatwave makes it easy to create amazing music. 
Mix and loop your arrangements to create the perfect song. 
The Beatwave grid lets you construct beats and melodies easily.
Price: Free
Device: iPhone & iPad
---
35. Music Maker JAM
#1 music creation app. Join the music revolution now! Millions of people use Music Maker JAM to create, share and discover amazing tracks across a wide variety of genres like EDM, hip hop, dubstep, house, pop, rock, and more.
Price: Free
Device: iPhone & iPad, Android

Choose from 300+ music Mix Packs with 500k+ loops including trap, hip hop, dubstep, rock, pop, funk, drum and bass, techno, house, ambient, jazz, and movie scores.
Easily combine samples from different music genres
Record live with a perfect mix down on the 8-channel mixer
Access thousands of studio-quality loops from beats and vocals to synth leads and bass lines
Be creative with easy controls: adjust tempo and harmonies, edit song parts and play with spectacular real-time effects
Remix tracks by shaking your device
Record your vocals
Share your tracks directly to SoundCloud, Facebook, and WhatsApp
---
36. zenbeats
Roland Zenbeats is a music creation app that keeps you in an effortless artistic flow.
Get started on any device or platform. With its collection of both modern and legendary sounds, Zenbeats brings Roland's history of innovation into a new, accessible format.
Price: Free
Device: iPhone & iPad, Android, Windows & Mac
Packed with sounds, loops, and creative tools to expand your musical palette.
Pre-loaded with on-screen controllers, instruments, and effects.
Play, edit, and capture sounds from your world.
---
Suggested Music Equipment
Here are the most popular and top-rated music production products online.
---
I hope you guys find these free music software apps to be useful.
What's Your Free Music Production Software App?
If you are looking for more software check out Free Audio Editing Software Programs.
Please don't forget to share this article.