Make money selling beats. We will break down how to sell beats online. These 7 proven steps will prepare you for a successful beat-selling business.
It can be very profitable to sell beats online, but it can also be overwhelming when you're just starting out.
There is a lot of competition online when it comes to selling beats. So you need to have the right approach to compete with other music producers.
If you invest in building a solid foundation, you can start making money and build a solid fan base.
Table of Contents
How to Sell Beats Online
You should follow these seven steps to start a successful beat-selling business.
1. Build a Catalog of High-Quality Beats
Here are 3 factors before selling your beats online.
1.1 Have Professional High-Quality Beats
One of the most important steps to selling beats online is having professional quality beats.
If your beats aren't good, no one is going to buy them.
So you want to make sure your beats are at a professional standard and that music artists want to use them.
Your beats should be…
Properly mixed
Tested on a variety of different speakers
Be in the correct song structure
Have quality sounds
If you are new to making beats, talk to music artists and see what they have to say about your beats.
If no one wants to use your beats, free or paid, then you may need to improve your beats.
Related: 8 Reasons Your Beats Aren't Selling
1.2 Offer a Wide Selection of Beats
You should have at least 50 beats in your beat store.
Create music for different music genres, different moods, and tempos.
If you only have 10 beats online, you aren't giving music artists a lot to choose from.
When a music artist visits your website, you don't know what type of music they are looking for.
So you want to give music artists a wide selection of music to choose from.
You don't want to put a lot of effort into promoting your beat store when you only have a limited selection of beats.
If you do, you are going to be disappointed when no one buys your beats. When the issue is you aren't giving music artists a lot to choose from.
1.3 Create Popular Music
You also want to create music that you know is popular to help your chances of succeeding.
If you only create music for one music genre you are limiting your audience and potential sales.
Here are the Top Music Genres on Spotify
Build a large collection of professional beats to sell online.
---
2. Build a Beat Selling Website
Building a website is the first step in creating a professional web presence.
A website gives you more control over the appearance, pricing, and user experience.
You don't want to depend on beat-selling online marketplaces that promote your competitors.
You should have a website that will be the central location to be found.
This is where music artists will be able to buy beats, pay for services, and learn about you.
You can get website hosting for as cheap as $3 to $8 per month.
Sell 1 beat per month, and it pays for website hosting.
Setting up a website isn't as hard as it used to be.
It can take more time because there is more flexibility and choices.
But you can set up a beat website in under 1 hour.
Tutorial: How to Create a Beat Selling Website
By having a website you will look more professional and the focus is on your beats.
What to Look for in a Website
The most important thing to look for when selling beats is the music player.
What to Look for In a Music Player
You need an audio player that makes it easy to search and find beats.
Playlist Feature – It should be easy to listen to all your beats on one page.
Easy Sorting – Sort by music genres, price, mood, and more.
Search – Allow people to search through your beats for key terms.
Instant Downloads – Customers want to download beats instantly.
Easy Buying Process – Make it simple to accept credit cards and PayPal.
Preview Download – Allow customers to download a tagged MP3 preview.
Make an Offer – Allow visitors to make offers to negotiate beat prices.
License Options – You want to be able to offer different license options.
Free Beats – Free beats are great to generate more traffic to your website.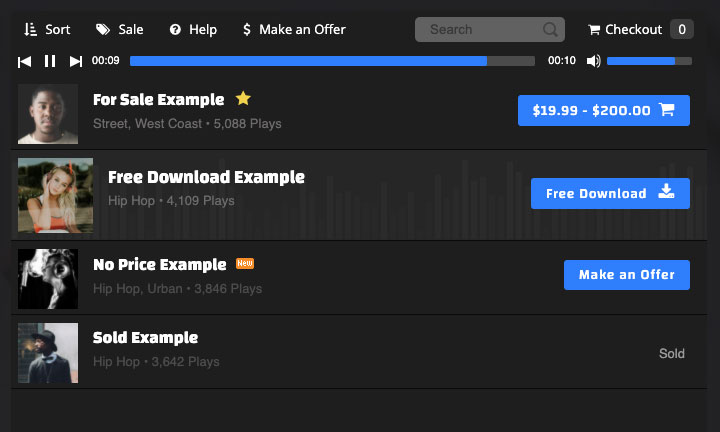 All the features above are built into the Music Maker WordPress Theme.
This template lets you build a complete website to sell beats, products, and offer services online.
This is an example of the Homepage Template with the built-in audio player.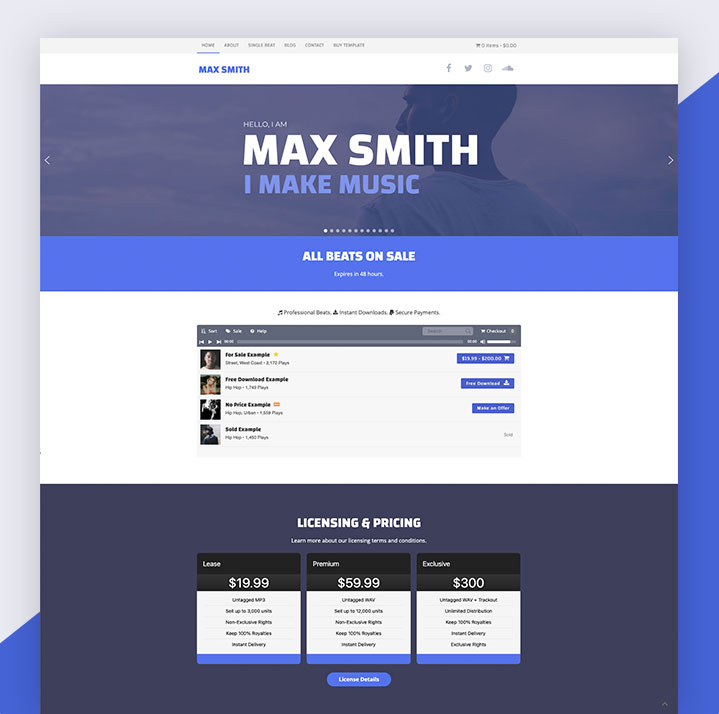 Helpful Resources & Tools
How to Set Up a Beat Selling Website
We have a free course on how to set up a beat selling website.
Basic Steps to Create a Beat Site:
So we highly recommend creating a beat-selling website.
You make yourself look more professional and invest in your business by doing so.
I have five websites myself because they cover various aspects of my business.
My business wouldn't be possible without these websites.
Related: 5 Website Pages Every Music Website Needs
---
3. Build an Email List
Building an email list can help you market your beats to potential clients.
You need to assume that once someone visits your website, they may not return.
The goal is to capture their email address to keep in touch.
This way you can message them about new music, beat sales, and other information in the future.
Related: Beginners Guide to Email Marketing
The Best Ways to Capture Email Addresses
Have Multiple Email Capture Forms – Put many email capture forms on your website. Include them in the sidebar or at the end of your blog posts.
Free Downloads – Offering free gifts will get the most email subscribers to join your email list.
Exit Pop-Up Windows – There are pop-up windows that appear when users are about to leave your website. Pop-ups that offer free gifts in exchange for their email can convert well.
Email Marketing Software Options
AWeber – Get 500 email subscribers for free. Spend less time marketing and more time growing your business with automated emails.
MailChimp – Simple interface and allows you to build an email list of up to 2,000 people for free.
Start building your email list to market too.
You may be missing out on a large list of people to market to in the future if you don't.
---
4. Promote Your Beats Online
To sell your beats online you need to start getting traffic to your beat selling business.
You can use all the social media websites to promote your beats.
Create Youtube Videos
Showcase your beats by creating YouTube videos. Promote your beat website in the video description.
Example Beat Video: Lo-Fi Type Beat – "Fresh Air"
This one video has over 2,000,000 views.
Uploading your beats to YouTube can get views and generate traffic to your website.
Related: How to Promote Beats on YouTube | How to Make Beat Making Videos
Take the YouTube of your beats and upload to other social media websites like:
You need to find different ways to get traffic to your website.
Your website needs visitors, otherwise it will not generate sales.
So focus on getting website traffic.
Also, adding links to your website from these different social media sites will help your website search engine rankings.
Related: 13 Ways to Increase Website Traffic
---
5. Create Content to Attract Music Artists
You want to build an online brand and become a trusted source for information.
There is a term called "content marketing".
This means creating content that indirectly promotes your products or services.
A good example of this is Nike. Nike creates marketing videos that promote an athletic lifestyle which promotes their products.
You need to do the same. You need to create content to capture the attention of music artists.
Content marketing is more effective than paying for ads. It helps to promote your brand, build authority, and establish trust.
Think about your favorite music producers on YouTube.
They share tips to help you create music and entertain you. So you keep going back for more.
This is what you want to do. Become a trusted source for information so people come to you for beats and music services
Create helpful content on your website and social media to start building a brand and authority.
You can use this content to promote to your email list and send it to music artists to build a connection with.
Related Articles:
To succeed at selling beats, focus on the long-term strategy of building an audience and getting traffic.
Here are examples of music producers who have built huge audiences on YouTube:
Busy Works Beats
770,000+ subscribers
L. Dre
275,000+ subscribers
Curtiss King TV
220,000+ subscribers
Related: 18 Music Branding & Marketing Tips
---
6. Contact Music Artists Directly
It's important to take a proactive approach to your beat-selling business.
Don't just wait for music artists to find you.
Message music artists on Twitter, SoundCloud, and Instagram to connect.
On LinkedIn, find music managers, A&Rs, and others who work with music artists and try to build relationships.
Don't spam people begging them to check out your beats.
This will get you blocked and damage any type of relationship.
Try to be helpful. Ask…
How can you help this person?
What service or resource can you provide?
Develop a strategy for introducing yourself in a helpful way to build trust and a long-term relationship.
When it comes to how you message others, simply treat others how you would like to be treated.
You don't want to be spammed or constantly sold to.
A helpful approach can lead to some promising opportunities.
Related: How to Get Repeat Customers
I got my first beat sale through SoundCloud by messaging rappers if they are interested in my beats. If you ask me, that's the best way to have to pay customers for life!

– Teodor (TED0BEATS)
---
7. Use Beat Selling Marketplaces
While we recommend having your own beat website, you can still utilize these other websites to promote your beats.
These websites can be helpful because they have customers looking to buy beats.
It doesn't hurt to put some of your best beats on these websites to see if they drive sales and traffic.
Here are some of the beat-selling market places starting plans.
| | | | | |
| --- | --- | --- | --- | --- |
| Marketplace | Per Month | 12 Months | # of Beats | Commission % |
| Airbit | $9.99 | $119.88 | 50 | 0 |
| BeatStars | $9.99 | $119.88 | Unlimited | 0 |
| Soundclick | $8 | $96 | Unlimited | 15 to 30 |
| Soundgine | $9.99 | $119.88 | 50 | 0 |
We encourage you to try out these different instrumental marketplaces to see if they provide any success.
The goal is to get people to your beat website to promote your beats, brand, and get them on your email list.
---
8. Bonus Tip: A/B Test Your Beat Website
To succeed at selling beats online get in the habit of testing.
Test prices, images, text, colors, promotions, and more.
Simple marketing messages can help or hurt your beat sales.
So it is important to constantly test your website to see what will get the most conversions.
Amazon.com runs thousands of A/B tests to improve the user experience and get people to buy more.
---
Related: How to Sell Your First Beat
Bonus tips left by producers in the comments:
Offer Free Beats – I gave away a free beat, which led to a music artist buying 5 beats from me months later. – Kyle Smith
Use Acapellas – I would use acapellas over my beats, which inspired people, which led them to buy my beats. – Chris
Use Social Media – I posted beats on SoundCloud and YouTube which led to someone contacting me about purchasing a beat. – Aidan
---
How to Price Beats to Sell
We reviewed the top 70 beat selling websites on Google and found the following stats on pricing beats.
Non-Exclusive Lease Beats
The most popular price for non-exclusive lease beats is $25. Includes an MP3 file, and the beat tags are removed.
28% – $25
20% – $19.99
19%- $30
7% – Under $10
7% – $15
7% – $27
7% – Above $32
5% – $17
For premium leases, $50 is the most popular price which includes a WAV file.
23% – $50.00
21% – $29.99
18% – 34.99
10% – $39.99
10% – Over $60
8% – Under $20
8% – Between $42 to $47
Exclusive Beats
The most popular price for exclusive beats online was $150 and $250.
35% – $150 to $250
17% – $250+ to $350
17% – $350+ to $450
15% – $450+ to $550
7% – Under $100
5% – $1999.99
2% – $999.99
The prices above are the most common prices. Try different prices with your audience to find out what works best.
You can certainly sell exclusive beat rights for more than the numbers above. These are just the most common prices.
Related Articles
---
15 Beat Selling Tips
Here are a few helpful beat-selling ideas you might want to try.
1. Automate Your Beat Selling Business
Automate your beat business as much as you can. Offer instant beat downloads.
Create email autoresponders to promote your content and beats.
Have an SEO strategy to help generate search engine traffic.
2. Best Beats First
Put your best beats first in your beat player. If a visitor clicks the first 3 beats and doesn't like what they hear, they will not continue to listen. So put your best beats first.
3. Keep Beat Names Simple
Don't make beat names long, complicated to read, or impossible to pronounce. Keep beats under 3 words if possible.
4. Include Music Artist Names in Beat Names
Use the names of popular music artists and music producers names to help get visitors' attention.
Some artists are searching for specific types of beats, so this can help with getting beat plays.
5. Choose Quality Over Quantity
It's better to have 40 great beats that people will want to buy, rather than 100 just okay beats that no one wants.
6. Re-market to Previous Customers
It can be hard to find good-paying customers.
But if you can get someone to buy from you once, there is a good chance they will buy from you again.
So offer deals and discounts to encourage these people to buy from you again.
7. Keep Your Beat-Selling Website Simple
Too many messages and graphics can be overwhelming and distract website visitors.
Keep your producer website simple to help your beat selling business.
8. Know Your Target Audience
You need to know what type of music artist you are sending beats to.
You don't want to send a Hip Hop artist Pop beats.
9. Network
I'm sure you have heard this before. It's not what you know, it's about who you know.
You have to get your foot in the door, and meeting those right people can expose your music to the right person.
So give your music to everyone: Rappers, singers, managers, engineers, songwriters, musicians, etc.
It's a small world, so you have no idea of who some people off the street may know.
Make sure you have a business card handy with a name, phone number, email address, and web address to stand out.
Making YouTube videos and sharing knowledge can help you to get exposure.
There are many people online who want to learn. These people can become fans and potential customers.
12. Participate in Music Forums
You can use music forums to establish yourself as an authority on music by sharing helpful info.
Forums can generate website traffic by including your website address in the signature.
Also, share helpful "related" articles on your website.
13. Give Away Free Beats
People love free things. Free is an excellent way to get someone's attention. Many beat producers offer free beats in exchange for an email address. Once you get someone's email address, you can market to them to try to get them to buy beats.
14. Promote! Promote! Promote!
Put a web address everywhere:
Email Signature
Forum Signature
Social Media Profiles
Blogs Comments
This will make people aware of your website, and can generate some traffic.
15. Be Everywhere
Make your beats available everywhere.
You don't know where people may come across your music.
Use sites like Airbit, BeatStars, and Soundclick along with social media sites.
Make your music available online to listen to, and easy to buy.
I recommend using all those sites to promote your website.
16. Don't Be Overly Protective of Beats
Too many producers are overly protective of their beats because of the fear they will be stolen.
To succeed at music, your beats need to get heard.
Sharing your beats with the right person can open up tons of opportunities for you.
---
10 Tips for Music Producers
Tips for Music Producers
1. View yourself as a small business.
2. Research topics you don't know. Educate yourself.
3. Plan smarter and work harder.
4. Work with people with similar goals.
5. Start working on full projects from start to finish.
6. Learn to read contract agreements.
7. Build an online brand.
8. Don't believe everything you hear.
9. Set fair beat prices.
10. Get a music or entertainment lawyer.
---
Beat Selling FAQs
Here are common questions beat producers have when it comes to selling beats.
Is Selling Beats Online Profitable?
Selling beats can be very profitable for music producers. You can create a beat selling website cheaply, and use social media to generate traffic and sales. The biggest expense is your time creating music, and promoting your beats. Almost everything else is profit.
---
How Much Should I Sell My Beats For?
Here are the most popular beat prices and licenses:
Lease Beats – $25
Premium Beats – $50
Exclusive Beats – $150 and $250.
These beat prices came from visiting the top 100 beat websites on Google.
---
What is The Best Site to Sell Beats Online?
Beatstars & Airbit are the most popular websites to sell beats online. But they are oversaturated with 500,000+ competing music producers. The best website to sell beats is your own beat-selling website. Because it focuses on your beats, products, and services.
---
How Do I Sell Beats Online?
To sell beats online create a website with a beat store of popular music genres. Use YouTube, SoundCloud, and Instagram to get traffic. Capture email addresses to market too in the future.
---
Can I Sell Beats With Copyrighted Samples?
You should not sell beats with copyrighted samples without the permission of the copyright holder. If you do not clear samples it can lead to legal issues. There may be some flexibility for using copyrighted samples if you are releasing a project for free. But music artists have been sued in the past for releasing free mixtapes with copyrighted samples.
---
How Do I Know If My Beats Are Good Enough to Sell?
Here are three things to think about to help determine if your beats are good enough to sell.
1. Have music artists created songs with your beats?
If the answer is no, why? Are you sure your beats are in the right song structure that is desired by music artists?
2. Have you received feedback on your beats?
Get feedback, but not just from your friends who will give you polite answers. Find honest music lovers who will give constructive feedback to improve and make better music.
3. Are your beats properly mixed?
When music artists listen to your beats are they mixed so they sound good on different speakers?
Don't let the 3 items above stop you from getting started with selling beats online. But you should consider the points above so you have the highest chance of success.
If you don't, you may not do well at selling beats online without good feedback and music artist interaction.
---
Do you have tips on how to sell beats online fast? Please share in the comment section below.
I hope this post has been helpful for anyone looking to sell beats online.
---
Create a Beat Website Today!
Our Beat Selling Website Template offers automated beat downloads, discounts, product store, and much more.
Related: How to Start a Business in 20 Steps