Here are the Best Free Vocoder VST Plugins online that can be used with FL Studio, Reason, Ableton Live, and other VST supported software.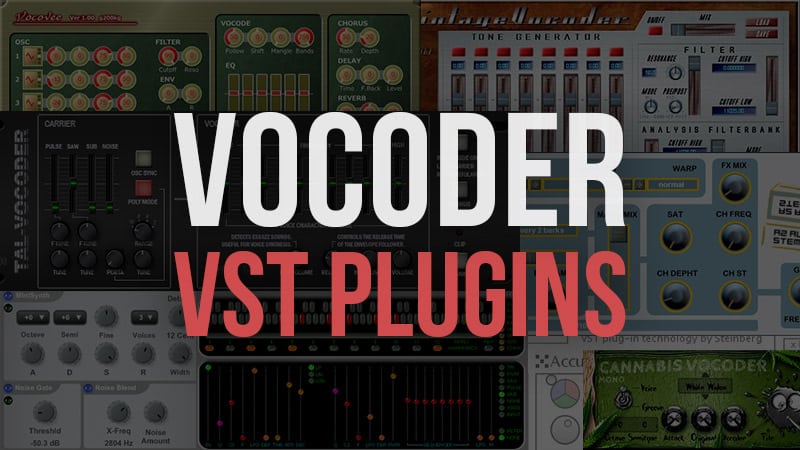 Instructions: Click each link below and look around each website for the download link or button. Do not install any suspicious software.
Tutorial: How to Install VST Plugins
Best Free Vocoder VST Plugins
1. TAL-Vocoder

TAL-Vocoder is a vintage vocoder emulation with 11 bands that emulates the sound of vocoders from the early 80's. It includes analog modeled components in combination with digital algorithms such as the SFFT (Short-Time Fast Fourier Transform).
11 band vocoder engine.
Harmonic control (adds more harmonics to any carrier signal)
"Ess" enhancer for a clean understandable voice, also with a carrier that hasn't many high frequencies.
Clip LED glows if the input signal will be clipped.
---
2. Cannabis Vocoder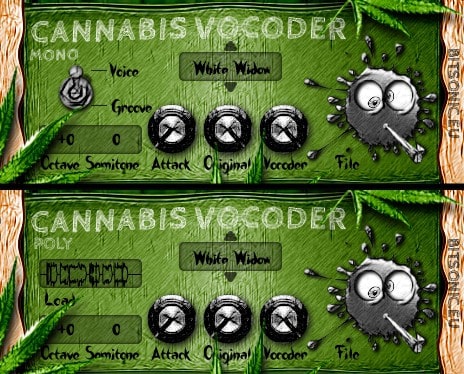 Cannabis vocoder is a funny plugin that can completely change the sound of your vocal track. The mono version is an effect plugin, meaning it's not a VST instrument.
Using the effect on the vocal track the software automatically tracks the tune of the vocal track and calculates the pitch of the changed sound as well.
---
3. Alter Ego
Alter Ego is a real time singing synthesizer plugin.
---
4. 4ormulator
Pitch-augmentation, sympathetic drones, re-synthesis, formant effects, voice disguisers, multi-band ring modulation, vocoder effects, robot voices, talking instruments, sub-harmonic bass generation, sci-fi effects, and many more.
Resonance Control
Harmonic Stereo Effects
Up to 520 BP Filters
12 db/oct AND 24 db/oct
Vocoder Modes
Glide Control
Internal Wave Generation
32 Effects per Bank
Virtual 6 Octave Keyboard
Sequencer & LFOs
---
---
5. Fragmental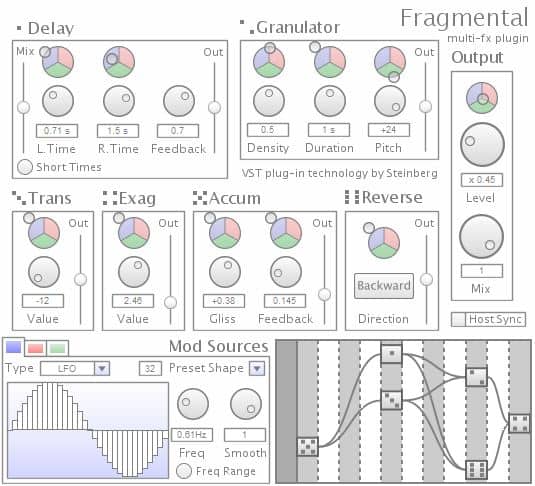 A complex multi-fx plugin incorporating a delay, granulator, three-phase vocoder effects, a reverberator, and three types of modulation source.
Incorporates a very flexible routing scheme capable of serial and parallel effects routing, and a new kind of modulation routing based on a kind of pie chart representation.
---
6. La Voz Cantante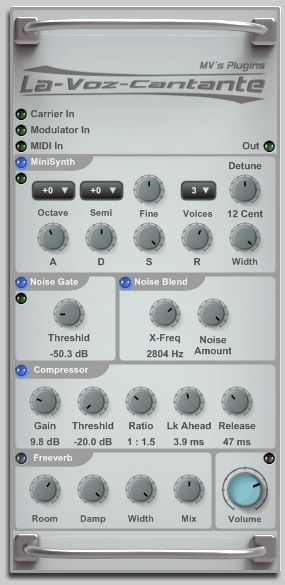 This is a 512 channel vocoder. The modulator input – usually a sung or simply spoken voice – is analyzed with respect to its spectral content, which is then applied to the other sound source.
The latter may be any externally supplied signal ranging from pink noise, synth pads, guitar, or even drums. Alternatively, there is an internal, MIDI-driven synth that is optimized for best speech reproduction fidelity.
You can blend the high frequencies with noise for more natural-sounding plosives and fricatives. There is also a noise gate, a compressor, and a stereo reverb onboard.
FFT based 512-channel vocoder
Option of VST plug-in or stand-alone executable
Stereo inputs for carrier and modulator, respectively
Optional MIDI input to drive internal synth as the carrier
Polyphony with an unlimited number of voices
Up to three voices per note with adjustable relative detuning and stereo width
Octave, semitone, and fine-tuning controls
The option of noise blending for an improved sibilant formation
Built-in modulator noise gate with indicator
Built-in soft-knee limiter with color-coded LED indicator
Built-in stereo reverb
Master volume control with output clipping indicator
LED indicators for inputs and outputs for a quick check of signal routing
---
7. Stempel Spectral Vocoder
Stempel, spectral vocoder VST effect plug-in for Windows.
A saturator using the 'variable parabolic' shape
A standard chorus with a good quality delay object.
---
8. Vocovee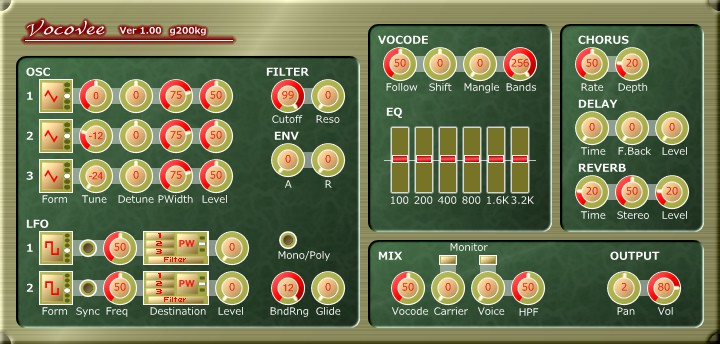 Vocovee is a VST Effect version of g200kg's Vocov Vocoder. It does not have sidechain routing but it does have lower latency. It also has an improved built-in synth.
---
9. Hot Robot
This vocoder is a VST effect for any audio software that supports VST plugins.
---
10. MDA Talkbox
The Talkbox is a high-resolution Free Vocoder VST plugin.
---
We hope you enjoy these free Vocoder VST plugins.
Please share this article and check out more Free VST Plugins.