Here is a helpful beginner's guide on How to Be a Music Producer and beatmaker.
To become a music producer it is essential to learn the fundamentals of music production. Learn music terminology, music software, and study music producers. The best way to learn how to be a producer is by creating a lot of music to learn through repetition and working hands-on with music artists. 
Table of Contents
Becoming a successful music producer involves more than just making beats.
This guide will provide you with helpful tips on how to succeed in the music industry:
How to create better music
Build a brand that stands out
Get your music heard
Watch Our Video
How to Be a Music Producer ( 15 Steps )
Here are our tips on how to be a music producer.
1. Set the Goal to Be a Music Producer
The first step to achieving any goal is deciding what your goal is and then creating a plan to achieve it.
Create a plan on how to become a music producer.
If you don't set this as a goal, you aren't going to be fully committed and put in the needed work to complete this goal.
Being a successful music producer isn't going to happen overnight.
You need a long-term plan and strategy to help reach your goals.
If music production is just a hobby, then it's ok to make just 2 beats per month.
But if it's something you want to be your full-time job, then 2 beats per month is not enough.
Setting a goal, raises that standard of what you should be doing more frequently to help reach your goal.
When it comes to setting any goal, it's important to write your goal out, and hang it on your wall to see it often.
Revisit your goals often to be reminded of what you are focusing on.
Read our article on How to Set Goals.
Related: What Is A Music Producer's Salary?
---
2. Work Like Music is Your Full-Time Job
How much time would you spend making music if it was your full-time job?
Start working like that, because your competition is putting in a lot of hours.
There is a saying that says "Fake it till you make it".
That's what you need to do with your work ethic.
Start treating music like your full-time job
Do all the things that music producers are supposed to do.
Then hopefully you will be able to make music a full-time job.
You need to put in a lot of hours to make music your full-time job.
Treat music production like a 9 to 5 job.
You need to come to work every day and create music.
I'm not encouraging you to quit your job. Do not quit your job.
Come home and work on your own projects if they are important to you.
If you aren't willing to put in the work, while other music producers are. You will be outworked.
---
3. Learn Music Production
Music production is the foundation of your career.
You'll have to first select the music software you want to use and learn everything you can about the music program.
Learning how to play musical instruments is a plus.
Music theory is important if you want to get creative. You should study scales, chords, and progressions before starting to create your own.
Audio engineering (mixing) is also essential to create quality beats that can be listened to by label managers without being ignored.
---
4. Study Successful Music Producers
Think of a few of your favorite music producers.
Study their music, history, and figure out how you can learn from their experiences.
If you went to art school you would be required to learn about other artists.
You would study their techniques, thought processes, and work over the years.
Do the same with learning about music production.
Related: Become a Better Producer & Musician
---
5. Work Hands-on with Music Artists
If you want to grow as a music producer, you need to go beyond just sending beats to music artists.
You will really grow by working in the studio with music artists.
When you are working with music artists, you can throw around ideas and customize the beat.
You also have more input on the direction of the song.
You can make suggestions on the hook, verses, and more to collaborate to make a better song.
When you just send beats to music artists, you don't know how good or bad the song will be.
Hands-on experience is one of the best ways to learn music.
But when you work directly with music artists, you can collaborate to make a song that you both are proud of.
As a music producer, you want to build a discography of music to showcase your skills.
You want to be able to showcase songs you produced that you are proud of.
Also, if you are new to music, working hands-on with music artists is one of the best ways to learn.
You will get a lot of requests and get a better idea of what music artists are looking for.
---
6. Collaborate with Music Producers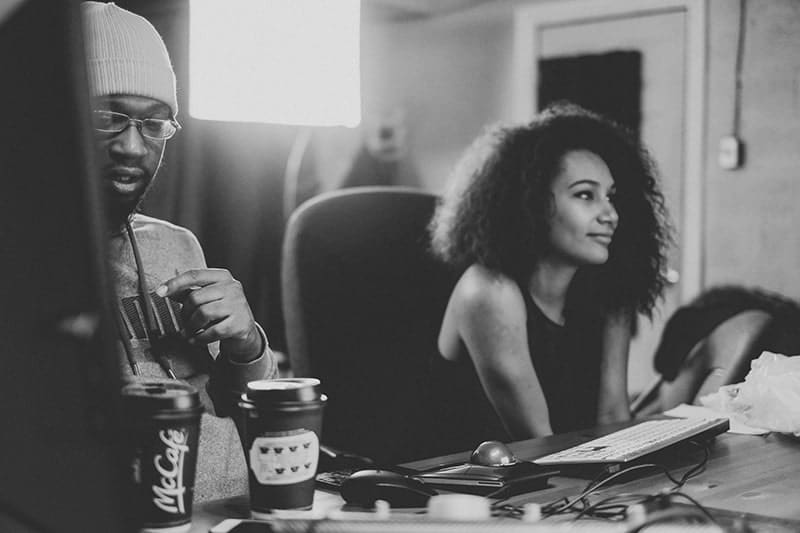 Work with other music producers to learn and network.
You can collaborate on projects.
Get and give feedback
Learn from one another.
Collaborate with other music producers.
Hanging out for a couple of hours can be very inspiring.
---
7. Start Networking
Getting to know people in the music industry is vital for success.
You can't do everything by yourself.
Do some web-based research and make a list of contacts from label managers, club owners, and other producers who can help you advance your music career.
Meeting people face to face is even better.
Attend networking events and music conferences.
You can also go to clubs and get to know people in the music industry.
---
8. Learn About the Music Industry
Pick up some music-related books to learn about the music industry because there is so much to learn:
Understanding Royalties
Sample Clearance
ASCAP
Music Licensing
And More
No one will be more invested in your future and success than you.
So you must take charge and learn all you can.
---
9. Get Feedback on Your Music
You're bound to make mistakes, especially when you're just starting out.
When it comes to making music, it's normal to spend long hours in front of the computer brainstorming ideas, trying out different beats, or tweaking details.
You may think that you've created something awesome, but feel that something is off when you compare your track to other quality productions.
That's why you should send the track to a producer friend and simply ask for feedback.
---
10. Get Creative to Stand Out
Don't be dull and avoid being a copycat.
Sure, you can follow trends, but you won't stand out from the crowd if you don't add some originality to your music production and brand.
Try to draw inspiration from other music genres and incorporate elements into your own genre.
---
11. Develop a Professional Music Brand
Work on developing a professional music brand that attracts professional music artists.
If you look amateur, you will attract amateurs.
Invest in a professional website, a quality music logo, quality graphics, and more.
Act like you are a professional music business.
How to Brand Yourself As A Music Producer
---
12. Promote Your Music Brand
Once you have defined your brand, you want to work on exposing others to your brand.
Set standards for your brand so when they think of you they think of a professional music producer and quality beats.
---
13. Claim Your Producer or Production Name
Once you have created a music producer name or music production name to go by, claim it online.
Register a domain name of your producer or business name.
Claim your name on social websites like Facebook, Twitter, and Instagram so someone else doesn't take the name first.
---
14. Learn Digital Marketing
If you want to be seen on the internet, digital marketing is a must.
It's not complicated to get a grip on the basics and it will help you a lot when marketing yourself.
Learn about keywords and SEO to ensure you always have the best content.
---
15. Interact with Your Fans & Followers
Always interact and show your gratitude towards fans and supporters. They will help to spread the word about the projects you create.
Always try to respond to comments that people leave you online.
---
10 Tips for Music Producers ( Video )
DJ Pain 1 shares 10 helpful tips for up-and-coming music producers.
Video Summary
View yourself as a small business.
Research topics you don't know. Educate yourself.
Plan smarter and work harder.
Work with people with similar goals.
Start working on full projects from start to finish.
Learn how to read music contracts and agreements.
Don't believe everything you hear.
Set fair beat prices.
Get an entertainment lawyer.
---
5 Reasons 80% of Music Producers Fail
Here is a great podcast by Busy Works Beats on five reasons why 80% of music producers fail.
---
9 Things They Don't Tell New Producers
Your first attempts at making music won't be great, and that's okay.
Your habits count more than your knowledge.
Everybody steals. Everybody!
Most of the tools you think you need, you don't need.
No one creates in a constant peak state.
Most of what you think you need to know doesn't matter.
You don't have to be miserable to make good music.
Musicianship is optional.
Time is the only difference between you & those who are now successful.
---
10 Reasons Why Producers Fail
Wrong Mindset – You need to believe you make money from selling beats. You need to know that there are people online making good money selling beats and you can do it also.
Expecting Results Without Hard Work – If you want to succeed you will need to work hard. Don't just expect beat sells to just come to you.
Limiting Customer Reach – Take advantage of all the online beat selling markets to find customers. Offer music services as well to help increase your income.
Poor Marketing – Work on effective marketing for your beats and not spamming people.
Not Interacting with Music Artist – Music artists are your customers. You need to work with music artists and build relationships. Don't just tag them on Facebook and spam them with social media posts.
Not Taking Action – If you learn something new like marketing techniques, take action, and learn so you can improve the technique to make more money.
Too Many Freebies – You need to pick and choose who you give out free beats to. You need to convert music artists into paying customers. Related: Pros & Cons of Offering Free Beats
Not Selling Enough – You need to value your time, and you need to make sure others value your time. So you need to promote your products, services, and beats to help meet your financial goals.
Copying Other Music Producers – Get inspired by other music creators, but you need to define your brand and do what you can to stand out.
Low Beat Prices – Find the right pricing for your beats. If you price your beats too low, music artists may look at them as low quality. Also, you will make less money. So experiment with beat pricing.
---
Common Music Producer Questions
Below are common questions and answers for up-and-coming beatmakers.
What is a Music Producer?
What Does a Music Producer Do?
There are a lot of misconceptions and confusion about the work of a music producer. The fact is that music production is a very broad profession with lots of possible roles to take part in.
When working with a band, a music producer is generally responsible for helping the musicians find their best sound, the best arrangement for the song they are working on, and so on. With Electronic and Hip Hop music genres or all-in-the-box production, the music producer usually produces the beat by himself for the singer to sing or rap on it.
Today, with music becoming more genre-defying each day, there are no hard rules about this: each producer has their own way of working. Either way, the main role of the music producer is always to help people accomplish a certain sound the music artist has in their head.
What is Music Production?
Music production is the process of creating music. A music producer oversees the process of making songs or albums. Some music producers make their beats, while others may collaborate and guide musicians to play instruments and melodies a certain way.
A music producer oversees the music project and makes suggestions to make sure it is the best possible track.
Do I Need a Music Production Degree?
Nowadays the most important thing for a music producer is a great portfolio to showcase your work. That being said, it doesn't mean a music production degree won't serve you: by going after a degree you will learn and put into practice your skills and meet a lot of people, but don't rely solely on it.
Are There Music Production Courses & Schools?
There are a lot of music production courses being offered nowadays, most of them online. Some great schools to check for music production courses are Berklee, Point Blank Music School, and Icon Collective.
Of course, there are also a lot of free tutorials and courses online that you can gain a lot of knowledge from, and sometimes, that's all you will ever need. Make sure you search on places like YouTube. Plus, put your skills to practice regularly.
Do I Need a Lot of Money to Make Music?
No, many music producers start making music with a computer, music software, and a MIDI keyboard.
Those are the very basics you need to get started. There is even free music software to download to start making music for free.
What is the Best Music Producer Software?
What Music Producer Equipment Do I Need?
A lot of beginners tend to think they need a big professional studio with a huge mixing board.
The truth is all you need to start is a computer, a DAW (Digital Audio Workstation) software, some good pair of headphones or speakers, and your desire to learn.
Of course with time you are going to want to step up your gear. If you want to record vocals and instruments, an entry-level interface and a good microphone doesn't cost too much and is a great investment.
Another popular choice for producers of any genre is a MIDI keyboard: it will let you play your favorite synth plugins via a real keyboard and save yourself a lot of time.
Who Are Some Famous Music Producers?
There are a lot of famous music producers who are acknowledged for their skills and achievements.
With Hip Hop we have names such as Timbaland, Dr. Dre, and Pharrell Williams are widely known in the scene for their creativity.
For Pop music, Max Martin and Mark Ronson are great examples. And for Rock music the legendary Butch Vig and Rick Rubin, two of the most influential music producers of all time.
What Are The Best Music Forums?
Music forums are one of the best ways to connect and learn from fellow music creators. So we highly recommend being a part of an online community that inspires you to learn and grow.
Here are 8 Music Production Forums to check out.
How do I Start Making Music?
Check out our beginner's guide on how to make beats. There you will learn the basics of music software, hardware, song structure, and more.
Then we suggest you…
1. Make a lot of Music – You will get better with practice and repetition.
2. Work with Music Artist – Hands-on experience is the best way to learn.
We also highly suggest you watch some online music courses to speed up the process of learning software and music techniques.
Is it Hard to Become a Music Producer?
Becoming a music producer today is not hard. Back in the day, you would need a complete studio, multiple contacts and a lot of money to get started.
Nowadays, with endless tutorials being offered for free on the internet, all you need is your computer, your will to learn, and great skills in marketing.
What Do Music Producers Use to Make Beats?
Even though analog gear has seen a resurgence right now, most producers nowadays do everything in the box, which means, everything within his or her computer.
Music producers use a variety of samples and synth plugins such as Serum and Kontakt to make their beats.
In our music software poll, the top-rated music programs were FL Studio, Propellerhead Reason, and Apple Logic.
How Long Does it Take to Become a Music Producer?
That's a very personal question. Depending on how much time you spend improving your skills, you may get a grip on it in no time.
If you seriously want to become a music producer, it's recommended that you practice for several hours every week, preferably every day.
What Are Some Great Youtube Channels about Music Production?
Where Can I Find Music Producer Wallpapers?
How Can I Earn Money Producing Music?
Today with the advent of the internet there are a lot of ways you can earn money producing music. One of the most popular ways is selling beats online: you produce the beat, upload them online to your website or a beat-selling store and sell them to rappers and singers.
Other ways to earn money producing music include producing stock music and soundtracks for videos, producing sample packs, or even licensing your own tracks to be used in movies, videos, and tv: the possibilities are endless. It's also a great idea to learn about marketing.
Related Videos
Conclusion
Being a music producer has become very popular nowadays and quite easy to start.
Years ago you would need a lot of equipment to get started.
Nowadays all you need is a laptop and a digital audio workstation. You can do it. You will just have to work very hard to reach your goals.
---
Do you have tips on how to be a music producer?
---
Create a Music Producer Website Today!
Create a website to sell beats, products, and music. Learn More »